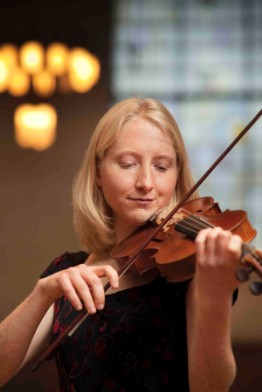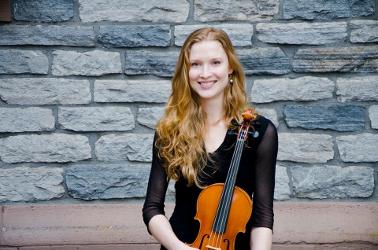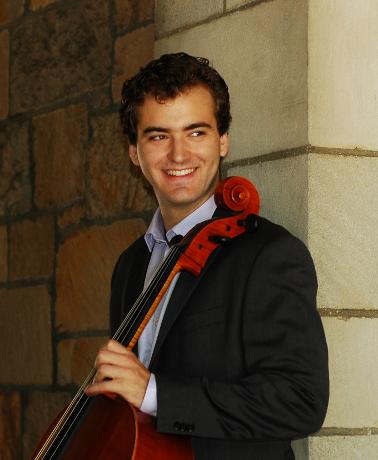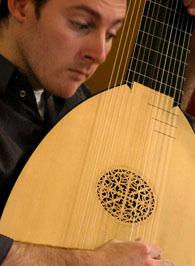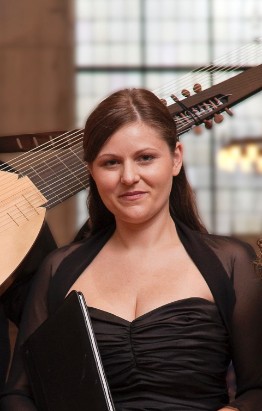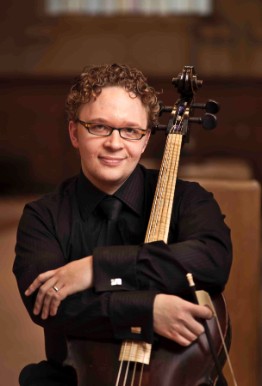 Carrie Krause serves as concertmaster of the Bozeman Symphony, maintains a private studio of students, and founding director of the Second String Orchestra. She specializes in early music and performs throughout the nation, appearing as concertmaster of New Trinity Baroque, Pacific Baroque, and the San Francisco Bach Choir, associate concertmaster of Apollo's Fire in Cleveland, and with Chatham Baroque in Pittsburgh, NYS Baroque in Ithaca, Portland Baroque, Seattle Baroque, and the Baroque Chamber Orchestra of Colorado. She has appeared as soloist with Apollo's Fire in Miller Theatre, the Fairbanks Symphony, the Casper Symphony, and the Bozeman Symphony. She has appeared at the Spoleto Festival, Strings Music Festival in Steamboat Springs, Montana Baroque Festival, Montana Chamber Music Festival, Belgrade Early Music Festival in Serbia, and Sastamalla Gregoriana in Finland. She grew up in Fairbanks, Alaska and studied music performance at Carnegie Mellon University with the concertmaster of the Pittsburgh Symphony, Andres Cardenes, at the Cleveland Institute of Music, The Juilliard School in historical performance. Carrie is a hike-aholic and sometimes, once in a while, loves to cross country ski even more than practicing the violin.
Adriane Post, violin, has been described as one of North America's "brightest and best" by Early Music America (Fall 2012). She has appeared as concertmaster and soloist with Juilliard415 under the direction of Jordi Savall and Nicholas McGegan and leads in New Trinity Baroque as co-concertmaster and soloist with Carrie Krause. Adriane can be heard around the United States in ensembles such as Apollo's Fire, Trinity Wall Street Baroque Orchestra, Washington National Cathedral Baroque Orchestra, Handel and Haydn Society, and Sarasa Chamber Music Ensemble, Opera Lafayette, the Knights and A Far Cry among others. Based in New York, Adriane is a member of the Diderot string quartet, specializing in historical performance of classical through early romantic repertoire. Recent festival performances include the Carmel Bach Festival, Piccolo Spoleto, and Ravinia. Adriane received her BM from Oberlin Conservatory and her MM as part of the inaugural class of The Juilliard School's new Historical Performance program. Her principal teachers include Nicholas Kitchen, Marilyn McDonald, Cynthia Roberts and Monica Huggett. Adriane is from Charlotte, VT, and remains a proud Vermonter.
Cellist Paul Dwyer brings to life everything from early music on baroque cello to brand new works by young composers. He has been prize-winner of numerous competitions, and is the recipient of the Javits Fellowship and Presser Award. He has worked with composers such as Saariaho, Hodkinson, Bolcom and Sheng, and has performed chamber music with pianist Menahem Pressler, principal players of Apollo's Fire, and artist-faculty at the Aspen Music Festival. As a Fulbright Scholar, Paul recently studied privately with Anner Bylsma and Frances-Marie Uitti in Amsterdam.
After completing his Bachelor of Music at the Oberlin Conservatory, Paul continued his studies at the University of Michigan, where he earned his Doctorate of Musical Arts under Richard Aaron. Paul now lives in Brooklyn and just completed additional graduate studies in the Historical Performance program at Juilliard, where he has performed with Monica Huggett, Ton Koopman, Jordi Savall and William Christie.
Growing up in Vienna, Austria, and Munich, Germany, Paul originally wanted to play the double bass, but was told he was too short. His explorations on the cello began soon thereafter: as a teenager, he co-founded a cello quartet dedicated to heavy metal music, and premiered Prelude for Cello and Didgeridoo by and with Dean Wilmington. In his free time, he enjoys playing soccer, biking and brewing beer.
John Lenti has appeared as a soloist and chamber musician on lute and theorbo across the United States and abroad, and his performances have been broadcast on "Performance Today" and "Harmonia." His playing has been hailed as "a joy to behold" (Seattle Times) and praised for its "nuanced beauty and character" (Gramophone). His recording credits include And I remain..., an album of lute songs and lute solos with soprano Linda Tsatsanis, Division with Ostraka and The Amorous Lyre with La Monica. John plays continuo for the Seattle Baroque Orchestra and is a founding member of the ensembles Plaine & Easie and the I-90 Collective, besides maintaining a busy freelance career performing frequently on both coasts. He studied lute with Nigel North, Jacob Heringman, and Elizabeth Kenny and holds degrees from the North Carolina School of the Arts and Indiana University.

Canadian soprano Linda Tsatsanis enjoys an active and diverse career. Hailed as "ravishing" (New York Times) and possessing a voice with "crystalline purity" (Seattle Times), Ms. Tsatsanis' career spans the concert hall, opera stage, and performance in movies and television. Ms. Tsatsanis has appeared as soloist with orchestras such as the Seattle Baroque Orchestra, Auburn Symphony, Orchestra Seattle, and Pacific Baroque Orchestra and has made recent appearances at the Magnolia Baroque Festival as well as the Indianapolis, Boston and Bloomington Early Music Festivals. She keeps a demanding performance schedule in the Pacific Northwest in addition to performances around the United States and Canada. Ms. Tsatsanis holds degrees from the University of Toronto and Indiana University. She has a solo album with Origin Classical, And I Remain: Three Love Stories, described as a "seductive recital of the darker sides of 17th-century love" (Gramophone), and can also be heard on recordings by the Canadian Broadcasting Corporation and Naxos. Ms. Tsatsanis is a member of Plaine & Easie, winners of the 2009 Early Music America Renaissance Competition. Currently, Ms. Tsatsanis lives in Seattle where she studies with Joyce Guyer.
Nathan Whittaker, baroque cello, has been described as "a soloist that was not merely good but rather extraordinary", with "musicianship of the highest order." (SSJT) As a member of Plaine & Easie, he won the Grand "Unicorn" Prize in the 2009 EMA Medieval and Renaissance Competition. Mr. Whittaker has served on the faculty at the Indiana University String academy, the principle cellist of the Columbus Indiana Philharmonic and associate principle cellist with the Terre Haute Symphony Orchestra and has performed in early music festivals in Bloomington and Vancouver, as well as the American Institute of Musical Studies in Graz, Austria. Currently, Mr. Whittaker is a member of the Seattle Baroque Orchestra and Pacific Baroque Orchestra, and teaches at Cornish College of the Arts and the Academy of Music Northwest. He can be heard on CBC broadcasts, and has recorded with the NPR and ATMA Classique labels. Having graduating Cum Laude from Indiana University with a Bachelor and Masters of Music Degree in Cello Performance, Mr. Whittaker is currently a DMA candidate in cello performance with Toby Saks at the University of Washington. His private instructors have included Helga Winold, Tsuyoshi Tsutsumi, Stanley Ritchie, and Peter Wiley.