Summer Concerts -August 20-24th, 2017
Venezia - Sonatas Transalpina
Join the I-90 Collective tracing the inestimable influence of virtuoso Venetian musicians into the south of Germany, through the hardwood forest to Innsbruch, and into England via an adopted manuscript of excellent Italian madrigals. Sublimity and honesty characterize gorgeous works by Vivaldi, Purcell, Becker, and other seventeenth century gems.
Sunday August 20th at 4pm
St. Timothy's Chapel, Anaconda MT
Admission $20
Monday, August 21st at 7:0pm
Laura Gilmore home, 83 Vista Grande, Ennis MT
Admission $20 individual/$30 per couple
RSVP ascruggs@ennisschools.org
Tuesday, August 22nd at 7:30pm
Clark Chateau, Butte MT
Admission $20 at door. Refreshments served
Wednesday, August 23rd at 7:30pm
Padilla Home, 67 Wade Lane, Bozeman MT
Admission $20 by check to "Baroque Music Montana" 500 Black Bear Rd, Bozeman 59718 or at door. Refreshments served
Baroque Performance Workshop
August 25-27, 2017
After our exciting inaugural year in 2016, the I-90 Collective is pleased to announce our 2nd workshop!
Presented in collaboration with the Bozeman Symphony and Baroque Music Montana, this summer features chamber music and a special guest harpsichordist joining us from the Royal Academy in London, Benedict Williams, as well as our fabulous faculty from the I-90 Collective.
Registration now open! Register Here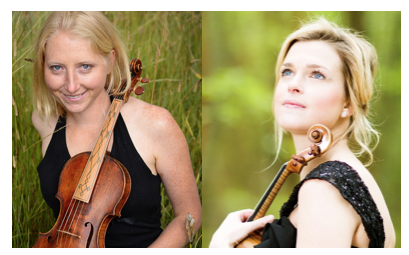 Concerts
Baroque Music Montana presents:
"Kegs of Counterpoint: Concoctions from the German Baroque"
For an erudite embark upon the new year, join period musicians for a concert exploring the influence and context of brilliant Bach on fellow characters of the High German Baroque.
- Program -
J.S. Bach's Organ Trios BWV 527 & 530, Telemann's Sonata for Bassoon and continuo & the little Gulliver's Suite for two violins, Buxtehude's Sonata a 3, and Handel's Trio Sonata HWV 390 & beloved aria Lascia ch'io pianga, arranged for solo lute.
- Musicians -
Davina Clarke and Carrie Krause, violin
Nate Hegleson, baroque bassoon
John Lenti, theorbo and lute
Performances
Thursday, January 5th, 7;30pm
Cikan House, 31 Hitching Post Rd, Bozeman
Admission at door $25 general/$10 students; refreshments served
RSVP to carriekrause2000@yahoo.com
Friday, January 6th, 5:30-8:00pm
Vorachek House, Red Lodge
Admission $30 general; refreshments served
RSVP 406.425.8922
http://www.redlodgefringefestival.org/home.html#MIDWINTER
Saturday, January 7th, 7:30pm
Kania House, 10052 Floating Island Way, Shepherd
$25 donation; refreshments served
RSVP to Anne Kania floatingisland@me.com
Sunday, January 8th, 4:00pm
Krause House, 18 Kurt Allen Ct, Helena
Admission $25 at door; refreshments served
RSVP to Jean Krause simplystrings1@gmail.com
Monday, January 9th, 7:30pm
Big Sky Chapel, 510 Little Coyote Rd, Big Sky
Free Admission
Sponsored by the Peggy Dicken Schwer Memorial Fund and the Carroll Toepffer Memorial Fund
Presented by Arts Council of Big Sky: http://bigskyarts.org/2016/10/30/kegs-of-counterpoint-concoctions-from-the-german-baroque/
Past Performances
"Yarns and Melodies"
Join us for a period instrument concert featuring
quirky & folksy yarns from England and sweet & sophisticated melodies from France
Featured performers --
Carrie Krause, baroque violin
Adriane Post, baroque violin
Paul Dwyer, baroque cello
John Lenti, theorbo
Performances
Tuesday, August 23rd, 8:00pm
Big Sky Chapel, 510 Little Coyote Rd, Big Sky
Presented by Arts Council of Big Sky
Sponsored by the Peggy Dicken Schwer Memorial Fund and the Carroll Toepffer Memorial Fund
Free Admission
More information
Wednesday, August 24th, 7:30pm
Coulter House, 802 Madison, Helena
Admission at door $25 general, $10 students
RSVP to Tim Coulter samandtim@bresnan.net
Thursday, August 25th, 7:30pm
Cikan House, 31 Hitching Post Rd, Bozeman
Admission at door $20 general, $10 students